CP Switcher #7020 Gets Some Serious Attention!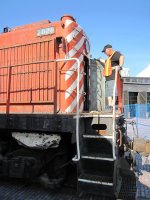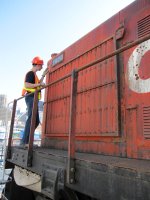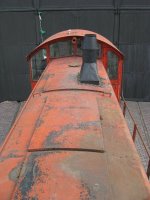 C
li
ck on each picture for a
closer look!
.
Our TRHA team has begun to work on our CP Switcher #7020 to stabilize any deterioration and to perform some cosmetic restoration. In the above pictures, we can see her current condition as our volunteers begin the restoration effort. One of the first tasks was to use a galvanized bucket as shown to cover the exhaust stack in order to keep rain out. We also manufactured a black cover to go over the hood-top air louvres to protect them as well. In the pictures below, #7020 has been used as a platform to take pictures of our CLC Whitcomb switcher, our "high-nose" GP7 and our 4-8-4 Northern.
.
Posting by Russ Milland; Pictures by Bob Dickson and James Rasor
.