Interpreting Roundhouse History to Leon's Customers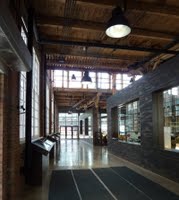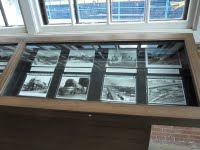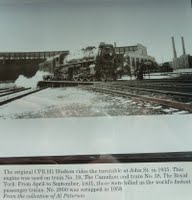 Click on each
picture for a closer look!
.
The main entrance to Leon's new store in the John Street Roundhouse is a foyer which runs the width of the roundhouse as shown in the picture at the left above. In the middle picture above we see one of the display cabinets in the foyer. Some of these cabinets contain a selection of our collection of historic photos of the Roundhouse. In the picture at the upper right above, we find one pf these pictures with its interpretive text. In fact this particular image was used until recently on the front page of
our website
. In the picture at the left below, we see the other end of the foyer where there is a print of a fine painting by David A. Oram which is shown in the image at the lower right. Below the print is text by James A. Brown which interprets the image and explains the preparation of steam engines such as 2815 within the roundhouse. Here is a copy of the text:
.
"It's a crisp winter day in March, 1935. Since late last might, Canadian Pacific's Hudson 2815 has been drowsing in the steamy warmth of Toronto's John Street roundhouse, while the shop forces deal with the myriad task of servicing and light maintenance in preparation for the H1b's next passenger service assignment. Both the locomotive and the shop are just five years old.
.
And despite the Great Depression, railways are the preferred mode of inter-city travel for Canadians, from coast to coast. John Street boasts Canada's first installation of a Direct Steaming System. This means that a locomotive laying over between runs can be maintained under shop steam without a fire on the grates. When the engine arrived last evening, 2815's fire was dropped comp
letely, a layer of fresh coal was placed on the grates and the engine rolled into its stall on the steam pressure remaining in the boiler. Once in the roundhouse, it was connected through its blow-off valve to the direct steaming system.
.
Now 2815 is marked up for train 37, due to depart Toro
nto Union Station at 5:20 p.m. for Windsor. The Direct Steaming connection has been removed. Steam sighs from the cylinder cocks and relief valves. A hostler removes the safety chain from the rear driver and clambers into the cab. And as a helper swings open the great doors of stall 2, the first light of 2815's new day glistens off the tender flanks.
.
Outside the roundhouse, the dry coal on the grates will be ignited and within minutes 2815 will be working up to full boiler pressure and awaiting its crew for another day's work in the service of the "World's Greatest Travel System".
By James A. Brown
.
Posting and pictures by Russ Milland
.