The Miniature Railway Crosses Itself!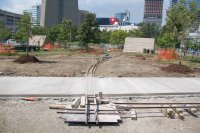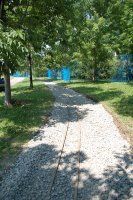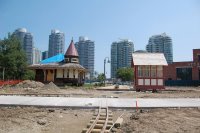 Click on each picture for a closer look!
.
Many news posts ago, we posted a map of the layout of Roundhouse Park. It showed that the "mainline" of the miniature railway was configured like the figure 8 with the track crossing itself just to the north of Don Station and just east and south of the crossing shanty. In the picture at upper left, we are looking north and can see the crossing under construction. In the picture at the upper right, we have a view of the same crossing looking towards the south. The middle picture shows that the railway will also run through the treed area in the southeast corner of Roundhouse Park.
.
Progress on tarck laying is currently paused as we wait for the contractors to complete sufficient additional trackbed for us to continue.
.
Posting by Russ Milland; Pictures by Lance Gleich