More Progress Throughout Roundhouse Park!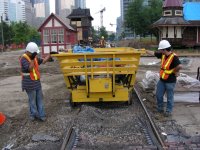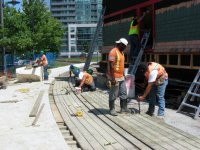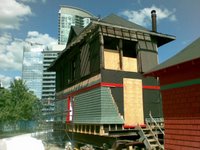 Click on each picture for a closer look!
.
In the picture at the upper left, we witness a derailment in Roundhouse Park! A bit of enthusiatic pushing over a mud-clogged crossing resulted in our speeder work car hitting the ground. It took the combined efforts of four of us to get it back on the rails. In the middle picture above, we find the carpenter crew hard at work laying the deck past the north side of signal cabin D. In the photo at the right above, we find that the shingling of the sides of Cabin D is progressing well.
.
In the pictures below, we find that the foundations for the miniature railway depot building and the accompanying turntable have now been laid. In the final picture at the lower right, we find TRHA's VP-Operations Michael Guy tossing his hat in celebration of the start of the miniature railway depot construction.
.
Posting by Russ Milland; Pictures by Michael Guy and Wilson Lau
.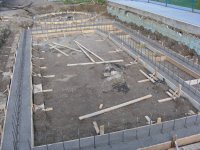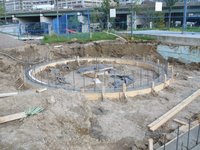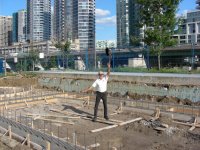 .