An Ode to a Canadian National Steam Locomotive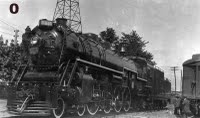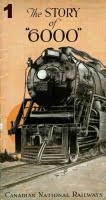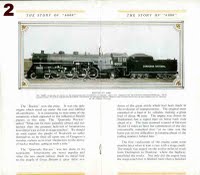 Click on each picture for a closer look!
.
An Ode to a Canadian National Steam Locomotive
.
There has always been a long association between railroading and poetry. When the railway era began in the 19th century, poetry was a much more prevalent form of communications than it is today. Some of literature's most famous poets, including Walt Whitman and Emily Dickinson, wrote poems about trains that are still studied today in high school English classes.
.
In Canada, one of our most famous poets, E.J. Pratt, wrote the famous Towards the Last Spike (1952). In the 1920s, Canadian National Railways prevailed upon Pratt to write a poem about one of their new steam locomotives, No. 6000.
.
No. 6000
.
"His body black as Erebus
........Accorded with the hue of night;
His central eye self-luminous
.......Threw out a cone of noon-day light,
Which split the gloom and then flashed back
The diamond levels of the track.
No ancient poet ever saw
Just such a monster as could draw
The Olympian tonnage of a load
Like this along an iron road;
Or ever thought that such a birth--
.....The issue of an inventor's dream--
.....With breath of fire and blood of steam,
Could find delivery on this earth."
.
E. J. Pratt
.
From the Canadian National Railways Magazine, December 1931, p. 9.
.
When Canadian National was formed after World War I from a collection of bankrupt or insolvent railway companies, the new railway inherited a collection of run-down steam locomotives, most of which had to be replaced in short order so that the railway could remain competitive with Canadian Pacific.
.
The 6000-series were 4-8-2 'Mountain' locomotives designed primarily for fast passenger service but equipped for dual use on freight trains as well. The first 16 of these engines were delivered by the Canadian Locomotive Works in Kingston during the summer of 1923. No 6000 became a poster boy for the CNR and figured prominently in its promotion and advertising. The railway even published a special 20 page booklet about the engine although most of it was devoted to the history of early steam locomotive development in general.
.
In 1927, CN produced another booklet called Modern Travel in Canada for distribution at the Fair of the Iron Horse in Baltimore. Although the newer No. 6100 was on the front cover, the publication still featured some dramatic renderings inside of No. 6000.
.
Eventually CN would order a total of 80 locomotives in the 6000-series, built by Kingston, the Baldwin Works in Philadelphia and the Montreal Locomotive Works. Further refinements in locomotive design led to the 6100-series 4-8-4 'Northerns' starting in 1927 and the 6200-series beginning in 1942. The Toronto Railway Heritage Centre's 6213 was part of the first order during World War II.
.
Part of the final order of the 6000's in 1944 was MLW No. 6060, the famed "Bullet-nosed Betty" which saw frequent excursion service in the Toronto area between 1973 and 1980 and was the last steam locomotive to operate here in the 20th century.
.
Sadly CN's No. 6000 was scrapped in 1962. The only survivor of that original 1923 order is No. 6015, which now resides in Jasper, Alberta.
.
As far as poetry is concerned, many people consider song lyrics to be the most relevant form of poetic expression today and Gordon Lightfoot's Canadian Railroad Trilogy (1966) and Steve Goodman's City of New Orleans (1972) are among the best known.
.
Unfortunately, the railroad hobby has also produced some rather bad poetry in the last few years. Recently readers of Trains magazine have been subjected to full-page ads featuring amateurish drawings and cringe-inducing poetry, some samples of which appear below.
.
"The F7 is on a trip to carry freight
This took place back in September, 1958."
.
"Like a long box this locomotive does appear
In doing its work it is very sincere."
.
"To lead passengers over Alleghany Mountain a massive engine was sought
And so Ten-Wheeler number 129 was bought."
.
IMAGES
.
#0-
Canadian National No. 6015 is being prepared for display at the CNE in 1923. This was the only preserved locomotive from the first order of the 6000s. - Al Paterson photograph
.
#1-
Canadian National produced this brochure around 1924 to commemorate the new 6000-series locomotives. - Orin Krivel collection
#2-
The brochure actually provided little information on 6000; most of it was devoted to a history of the development of the steam locomotive in Great Britain. - Orin Krivel collection
#3-
The 1927 brochure shows the mighty 6000 contrasted with the first Toronto-Montreal train in 1856. The location may be Brighton station. - Derek Boles collection
#4-
6001 is in full flight between Montreal and Toronto in the mid-1920s. -Derek Boles collection
#5-
6000 is hauling a westbound passenger train underneath the Bathurst Street bridge in the 1930s. - Al Paterson photograph
.
Posting by Derek Boles, TRHA Historian
.