Photographic Magic by Norm Betts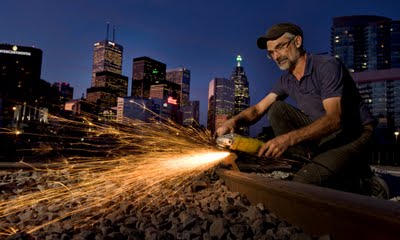 Click on the image for a closer look!
.
Norm Betts is a professional photographer who has been documenting the development of Roundhouse Park. Michael Guy posed for Norm to allow this artful image of work at the roundhouse set against a dramatic night time view of the Toronto skyline. Afterwards, Norm - always the perfectionist - felt that we should have waited another half-hour as the sky was yet too light for the lights of the city to properly show. It is, nevertheless, a striking image."
.
Posting by Russ Milland; Picture by Norm Betts