Report from the Owosso, Michigan Train Festival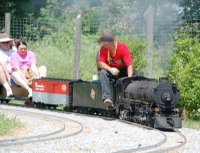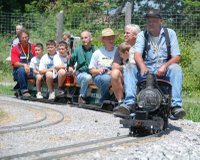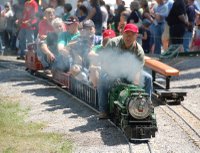 C
lick on each picture for
a closer look!
.
Periodically, major railway festivals are held in North America. One such festival was recently held in Owosso, Michigan from July 23rd to 26th. Lance Gleich of our TRHA team attended this festival and here is his report on his experience.
"While much attention was focused on the eight operating standard-gauge locomotives in attendance at the festival, the grounds actually featured trains of all sizes down to Z scale model equipment on sale. For an extra fare, about 3,000 people also rode the all-day excursions pulled by either Portland, Oregon-owned former Southern Pacific "Daylight" 4-8-4 #4449 or former Nickel Plate 2-8-4 #765 visiting from Fort Wayne, Indiana.
.
However, for no extra fare beyond admission to the Festival, one could ride behind a miniature live steam locomotive of the same gauge as the miniature railway that we are constructing at the Toronto Railway Heritage Centre. While no Canadian prototypes were noted at the miniature live steam gathering, a wide variety of American prototypes were represented - steam, diesel, and electric.
.
Attracting a substantial amount of attention were the one-eighth scale models of Milwaukee Road 4-8-4 #261 owned by John Jaros, Southern 4-6-2 #1396 owned by Joe Holbrook, and "Manatee River Railroad" 2-4-4-2 #28 owned by Bill Bherens (shown in the pictures from left to right above). Diesels (as shown below) ranged from early EMC switchers to Alco FA's to GP30's, and there was even a classic trolley car serving as a locomotive.
.
The constant parade of trains kept switch tenders and stationmasters busy throughout each day of the festival, as consists constantly pulled up to two stations on the grounds for loading and unloading. It has not yet been reported how many of the 36,000 festival attendees rode the miniature trains, but they certainly numbered in the thousands. The total length of track at Owosso, listed in the program as 4,000 feet is about double the planned length of our trackage in Toronto, but many more sidings and storage tracks were in place."
.
We at the Toronto Railway Heritage Centre can learn much from these festivals and can look to forward to possibly hosting festivals of our own in future once our facilitiy is complete.
.
Posting by Russ Milland; Report and pictures by Lance Gleich
.