The Restoration of Cabin D Continues!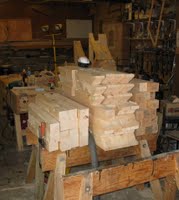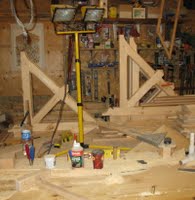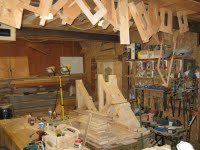 Click
on each picture for a closer look!
.
Work continues on restoration of Cabin D. Tom Murison, the restorer, advises that they have made all of the parts for brackets to support the soffit area of the structure. He notes in his reports to us that it s hard to get pine sheathing which is exactly 1" thick these days so he had to buy some that were over 1" thick and then reduce them to size using his planer in his shop. By doing this, the boards will match the original in thickness and character. The pictures above by Tom Murison show the brackets under construction.
.
They also rebuilt the wall surrounding the west window on the north elevation, as well as the top plate and window casing. The original bracket was carrying over 1 ton of bricks on two rotten two by fours so they beefed it up substantially. But the original worked for nearly a century so it certainly wasn't too seriously under designed.
.
In the pictures below by James Rasor, you can also see the progress to date on cladding the walls of Cabin D.
.
Posting by Russ Milland; Pictures by Tom Murison and James Rasor
.