Toronto Railway Heritage Centre Progress Report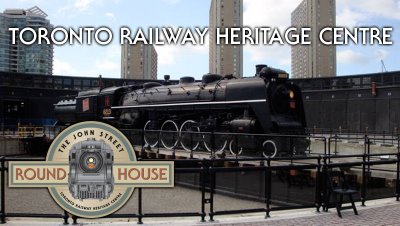 In our daily news postings we have been documenting the tremendous progress being made on many different fronts in developing the Toronto Railway Heritage Centre. However, we have not posted an overview of what we have done and where we are headed. In the report below, Derek Boles, our TRHA historian, sums all of this up for you!
.
"The Toronto Railway Heritage Centre is currently under construction and is not ready to accept visitors. As long as the construction continues, provincial safety regulations prohibit visitors from the site. Our volunteers are not in a position to grant visitors exemptions from these regulations.
.
Meanwhile, visitors who wish to appreciate the interior of the Roundhouse are welcome to visit the Leon's Furniture store, which occupies stalls 18-32 and is open until 9:30 on weekdays and 6 on weekends. The Toronto Railway Historical Association anticipates that visitors will be able to access most of the site and Roundhouse Park later in 2009. It is also likely that rides on the live steam miniature railway through Roundhouse Park will be possible late in 2009.
.
However, the formal opening of the Toronto Railway Heritage Centre is unlikely to occur before 2010. The Don Station and Cabin D will probably remain off limits until that time since both these historic structures require more remediation and restoration than was anticipated.
.
For your information, this is a timeline of various projects associated with the Toronto Railway Heritage Centre:
.
Projects Completed
Computer simulation of 1954 Toronto railway corridor ( Completed in 2006)
Acquisition of operating diesel switch engine (Completed in 2007)
Restoration of roundhouse turntable to operation (Completed in 2007)
Movement of Cabin D to Roundhouse Park (Completed in 2008)
Movement of Don Station to Roundhouse Park (Completed in 2008)
Restoration of Crossing Guard Shelter (Completed in 2009)
Restoration of Cabin D Tool Shed (Completed in 2009)
Construction of live steam miniature steam locomotive (Completed in 2009
Movement of CNR 6213 to Roundhouse Park (Completed in 2009)
Construction of standard gauge railway track (Completed in 2009)
Historical display in Leon's foyer (Completed in 2009)
In Progress with completion in 2009 or 2010
Construction of 7.5-inch railway rack through Roundhouse Park
Remediation of roundhouse stalls 15, 16 & 17
Deck installation and landscaping around turntable area
Landscaping in Roundhouse Park
Restoration of Don Station
Restoration of Cabin D
Production of museum orientation film
Computer simulation installed in F7 diesel cab
Installation of interpretive plaques explaining history of the site and artifacts.
Long Term Projects
The 12,000 square foot Machine Shop will house interpretive displays on Toronto railway history, a visitors' centre, a schoolroom and a theatre and lecture hall.
Restoration of the Canadian Pacific passenger cars Cape Race and Jackman, built in 1929 and 1931 respectively, the same years in which the Roundhouse was under construction.
The Railway Heritage Discovery Trail will link the Roundhouse and Union Station through the Skywalk with interpretive panels, guided walks and a downloadable iTour.
The restoration of the glass walled display rooms (otherwise known as vitrines) adjacent to the VIA concourse and the installation of interpretive displays at Union Station.
Establishment of museum offices, archives, a library, and historical exhibits at Union Station."
.
The best way to monitor ongoing progress at the Toronto Railway Heritage Centre is to access the
TRHA website
and especially the
"News and Events" page
which is continuously updated.

.

Posting by Derek Boles