Weekend Report - Reaching Out to Visitors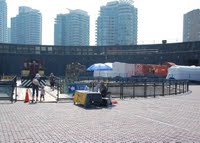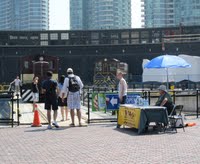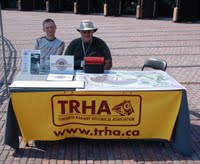 Click on each image for a closer look!
.
One of the challenges TRHA faces is effectively communicating to the public about our plans and progress for the development of the Toronto Railway Heritage Centre as well as the history of railways in the area centred on Toronto. We have in the past presented monthly tours of Union Station, interpreted Don Station when it was located at Todmorden Mills, presented information displays at Doors Open, communicated historical events through the
ToRYHeritage
list and of course communicated through the
TRHA website
which you are now reading.
.
Derek Boles is currently leading an new initiative to expand our efforts to dialogues with visitors to Roundhouse Park by establishing an information table at the west end of the turntable. The main purpose of this effort is to engage the public about what we are up to at the Toronto Railway Heritage Centre. On the table will be a large park plan and a photo display of mostly previously unseen photographs of the roundhouse over the years. Once we resolve various issues regarding liability, access and staffing, we may expand our offerings to include turntable rides and a guided tour of the site. In the pictures above, we find Derek assisted by TRHA volunteers providing our first day of this service last Saturday. We will be providing this service on selected weekend days for the remainder of the summer.
.
Posting by Russ Milland; Pictures by Lance Gleich and James Rasor