Weekend Work Party Report!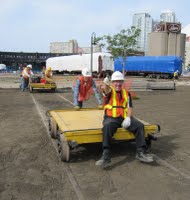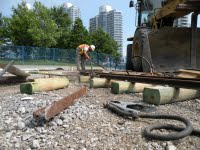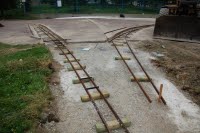 Click on each picture for a closer look!
.
This past Saturday, our TRHA teams continued to lay track on new roadbed completed by Pine Valley only the day before. We finished the day on even newer right-of-way compacted just a few minutes before we dropped ties and rails in place. These activities are featured in the pictures above.
.
In the middle picture below, we see that an indoor team continued to work on the complex job of constructing the switches for the miniature railway. As well, our paint scraping crew on locomotive #7020 continued their work. Another team attended to a series of small housekeeping projects out in the park. It turned out that three of our full-sized tracks are a few feet too long and must be shortened. This entails removal of six 'wheel stops' which was completed that day as shown in the picture at the left below. Cutting the 100 pound with an abrasive rail saw will occur next week.
.
The public has had access through the turntable patio area between Leon's and Steam Whistle for the past week or two and visitor traffic back and forth has been steady. As part of our work day we are now fielding questions (see picture at the right below) and listening to stories ("my grandfather worked for CN/CP" etc) on a regular basis. It is common to see people posing for photos up against equipment and we even saw a woman hugging loco #1 on Saturday as her friend took a picture! These early signs of success are gratifying and augur well for the museum in the future.
.
On Sunday, a smaller team completed laying the first part of the very tight curve, part of the 'wye' trackage (see picture at the right above) connecting the miniature mainline to the depot building which is now under construction as reported in a prior news posting.
.
Posting by Michael Guy; Pictures by Lance Gleich, Michael Guy and James Rasor
.