Weekend Work Report - Restoring CPR Switcher #7020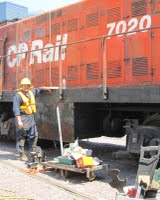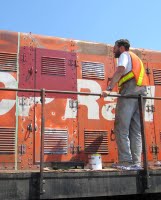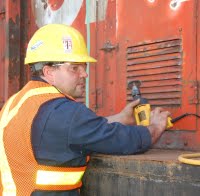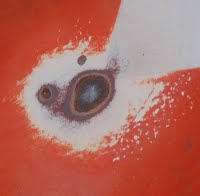 Click on each picture for a closer look!
.
Work is also proceeding on the challenging job of cleaning up our CPR switcher in preparation for repainting the engine both to improve her appearance and to prtotect the engine from the elements. James Rasor reports as follows:
.
"Various methods of removing the old paint on the CP 7020 are being tested using hand scrapers, wire wheel brushes of various head types, and orbital sanders. Before the work started, the engine was photographed from top to bottom for future reference to any markings, details, etc. The painting crew has marked out the testing zone with green painter tape so that TRHA crews working on other days know where the work is taking place. Two panels were selected for the test and ended with a test of red primer which will be reviewed on the following day for method and success of what the end result will be."
.
Lance Gleich further notes (see picture at the upper right):
.
"It is especially interesting to see the previous paint layers on the 7020 revealed, including the white undercoat of the action red, maroon below that and yellow at the base."
.
Posting by Russ Milland; Pictures by Lance Gleich and James Rasor