Historical Note: CPR 1057 Arrives at Tottenham - Part 1 of 2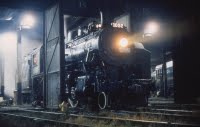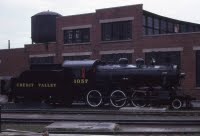 Cli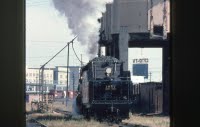 ck on each picture for a closer look!
.
As mentioned in earlier TRHA News postings, Derek Boles, TRHA's historian, publishes a daily posting on the
Toronto Railway Heritage Yahoo Group List
. These postings document major events in Canadian history that happened on that day of the year. In today's posting, one of the items was:
.
"September 22, 1997:
.
At Tottenham, ex-Canadian Pacific D10h No. 1057 is brought up to pressure and operated under her own steam for the first time in twenty years. Built in 1912, the locomotive had been restored and serviced at the John Street roundhouse in the 1970s. Along with ex-CP No. 136, the South Simcoe Railway used the locomotive on its excursions between Tottenham and Beeton.
"
.
If you wish to read these daily postings from Derek, simply join the Yahoo Group by
clicking here
.
.
John Mellow, a TRHA Board member, has provided us with images of #1057 in her Credit Valley RR livery in the 1970's at the Roundhouse. In the picture at the upper left, #1057 moves out of the Roundhouse on October 13th, 1973. In the middle picture, #1057 is parked beside the Roundhouse in May of 1973. In the image at the right, #1057 is passing the coaling tower in October of 1976.
.
#1057 was in operation at the
South Simcoe Railway
until 2006. Since then, the engine has been out of operation for major repairs. The video below shows #1057 in action during her last operating season.
.
Watch for an imminent further posting on the history of #1057!
.
Posting by Russ Milland; Pictures by John Mellow.
.