Field Trip Report: The Berkshire Scenic Railway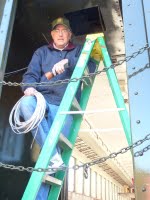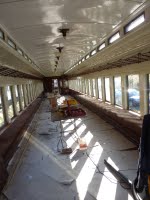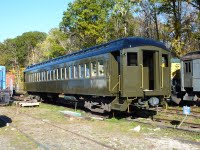 Click on each picture for a closer look!
.
Last week, we were vacationing in the Berkshire Mountains in the western part of Massachusetts about a 5 hour drive from the Canada border at Fort Erie. Always on the watch for heritage railway sites to learn from, I discovered the
Berkshire Scenic Railway
in Lenox, Massachusetts. They operate on weekends when the railway they use, the
Housatonic Railway
, si not moving freight down the line. The Housatonic is a Class III Railway operating in New England. The Berkshire offers the visitor a 90 minute round trip between Lenox and Stockbridge through the valleys of the Berkshires.
.
The railway was closed when visited it during the week. However, one of the 7 volunteers who operate the museum and railway was there and I had an enjoyable conversation with a kindred spirit. In the pictures above we find the volunteer, Paul, restoring one of their old clerestory coaches. In the pictures below we see a replica of a small yard masters office which they faithfully replicated including an authentic interior. The picture also shows the mainstay diesel used for their tourist train rides, an SW-xx switcher. They also have one of the Housatonic's back up RS-3 switchers in their yard which they use when five or more of their 8 Delaware, Lackawanna and Western Pullman passenger coaches built between 1911 and 1925 are pressed into service. Below you will see their string of old coaches. Not shown here is their fully restored New Haven caboose built by the Standard Steel Car Company in 1927.
.
Posting and pictures by Russ Milland
.