Historic Note: Steam Plant Construction Started on October 1st, 1928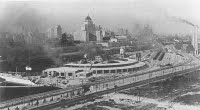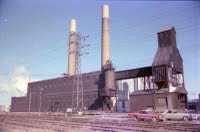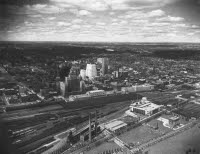 Click on each picture for a closer look!
.
As mentioned in earlier TRHA News postings, Derek Boles, TRHA's historian, publishes a daily posting on the
Toronto Railway Heritage Yahoo Group List
. These postings document major events in Canadian history that happened on that day of the year. Among the eleven items in today's posting is the following:
.
"October 1, 1928:
.
The Toronto Terminals Railway begins building the Central Heating Plant (CHP) at the northwest corner of York Street and Fleet Street (now Lakeshore Boulevard). The new facility replaced the old Toronto Hydro Scott Street plant, which was expropriated by the TTR for the building of the railway viaduct. When the Central Heating Plant was completed in 1929, it was the largest such facility in Canada. At its peak, the CHP could produce 330,000 pounds of steam per hour or an average of 600 million pounds annually. The plant provided steam heat piped through underground tunnels to a wide variety of railway facilities including Union Station, the CNR and CPR express buildings and the CPR John Street roundhouse, as well as supplying heat for individual passenger cars stored in the coach yard. The steam required for the Roundhouse's much vaunted "Direct Steaming Process" also came from this source. Moreover, the CHP also heated the Royal York Hotel, the Dominion Public Building, the Postal Delivery Building and the CN/CP Telecommunications building at Front and Simcoe Streets. Later the plant was converted to natural gas. In the 1980s the Toronto Terminals Railway decided to purchase their heating capacity directly from a commercial supplier and the Central Heating Plant was demolished in 1990.
"
.
In the black and white pictures above from the City of Toronto Archives, we can see where the steam plant was positioned just south of Union Station. In the colour picture above by Doug McFadgen, we have a close up view of the steam plant. In an earlier posting this year, we published a series of pictures by Norm Betts of the steam plant chimneys being demolished.
Click here
to read this posting.
.
If you wish to read these daily postings from Derek, simply join the Yahoo Group by
clicking here
.
.
Posting by Russ Milland