Historical Note: Night Train from Omemee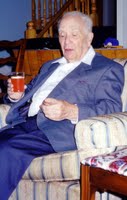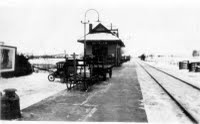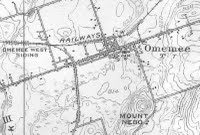 Click on each image for a closer look!
.
Bob Dickson of the TRHA has provided us with a second letter written by his great uncle James William Campbell Dickson (as pictured at upper left). The first letter was published by us
here
.
.
Today's letter describes a trip from Omeemee (see map at upper right) to Montreal. The middle picture is of Omemee Station in 1927 taken by Bob Dickson's grandfather.
.
Here is Bob's story about the letter:
.
The Night Train from Omemee
"My great uncle James Dickson started working for CN in Toronto in 1929 as secretary to the comptroller. In 1932 they moved the office to Montreal. He worked for CN for 44 years. My grandfather for 27 years. Both my grandfather and great uncle grew up on the railway as my great grandfather started working for the railways in 1883, with the Northern and NorthWestern R.R. in Georgetown as Station Agent. Later with GTR and CN until 1935 where he retired in Omemee.
.
I relate this information because my great uncle was a great story teller and I have many of his stories of the railroad. I have heard others talk of the service Via provides, some good , some bad. But the main theme running through them is how much better the service used to be. However they are mistaken. Here is one of my great uncle's stories "The Night Train From Omemee". I'm not sure of the date of his train ride, but the story was written in a letter to my aunt in 1964.
.
Bob Dickson, TRHA"
.
The letter is too long to post here but you can either open it or download it from the
Resources
page on the TRHA Website.
Click here
to access the letter.
.
If you have artefacts, stories or other items of historical railway interest to donate or make available to the Toronto Railway Heritage Centre, contact us.
.
For more information about Omeemee Station and the history of railways in the area, visit
Charles Cooper's Railway Pages
.
.
Posting by Russ Milland; Pictures, story and letter courtesy of Bob Dickson and the Dickson family; Omeeme Map from the Ontario Archives