Only Regularly Scheduled Steam-Powered Railway in Ontario in 2009!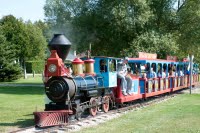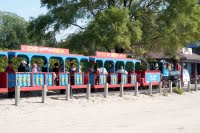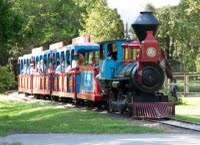 Click on each picture for a closer look!
.
This year there was only one regularly scheduled steam-powered passenger train operation in Ontario. The Huntsville and Lake of Bays Railway was closed this year to allow for construction of facilities for the G8 Summit in June of 2010. The South Simcoe Railway continues to work on rebuilding CPR 136, a wonderful old steam locomotive which had run for a number of years there before requiring further rebuilding. A few other steam locomotive in Ontario operate only on special occasions and excursions.
.
In Port Elgin, Ontario on the shore of Lake Huron, a steam driven passenger train, has run as the Port Elgin and North Shore Railway for many decades. This past summer, the railway operated excursion trains along the beach on a 1 mile (1.6 km) route in downtown Port Elgin. The round trip took approximately 20 minutes. While it is now closed for the winter season, we look forward to visiting it next year.
.
Posting by Russ Milland; Pictures by Peter Stamford of Port Elgin
.