Today is CP #7020's 65th Birthday!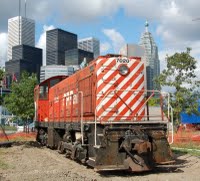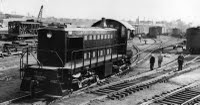 Click on each picture for a closer look!
.
CP #7020 is a Class DS10-b locomotive and carries serial #72855. It has been preserved as part of the Toronto Railway Heritage Centre collection. In the picture at the upper left taken by Lance Gleich in July of 2009, #7020 is dsiplayed today at Roundhouse Park. More information about #7020 can be found
here
on our website
.
As mentioned in earlier TRHA News postings, Derek Boles, TRHA's historian, publishes a daily posting on the
Toronto Railway Heritage Yahoo Group List
. These postings document major events in Canadian history that happened on that day of the year. Among the items in today's posting is the following:
October 18, 1944: (65th Anniversary)
"Toronto newspapers report favourably on the new diesels being delivered to the Canadian Pacific Railway for switching freight cars in West Toronto, Parkdale and various downtown yards. The first of these was No. 7020, an S-2 switcher built by the American Locomotive Compnay (Alco) in Schenectady, New York. The municipal enthusiasm for this new type of locomotion was due to concerns over the amount of smoke being discharged by the estimated 117 CP and 175 Canadian National steam locomotives that operated daily within the city of Toronto. No. 7020 was donated to the City of Toronto in 1986 for inclusion in the railway museum at the John Street Roundhouse, where the locomotive is currently undergoing a cosmetic restoration."
.
If you wish to read these daily postings from Derek, simply join the Yahoo Group by
clicking here
.
.
In the picture at the above right from the City of Toronto Archives, we see #7020 on delivery in 1944. In the picture at the left below by Pete McKintosh, we find CP Rail #7020 working West Toronto. In the picture at the right below by Dave More, we see #7020 clattering across the diamond at West Toornto headign towards Lambton in 1980.
.
Posting by Russ Milland; Pictures by Lance Gleich, Pete Mackintosh, Dave More (Helmut G. Osterman Collection) and City of Toronto Archives
.