Weekend Report - Sunday's Progress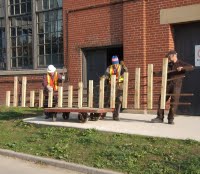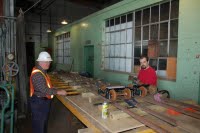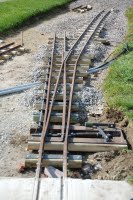 Click on each picture for a closer look!
.
The weather was kind, as forecast, today and we achieved the goal of placing a switch at the south end of the platform.
.
Festivities commenced about 9:30 and came to an end around 3:30 when the last two of us standing decided to finally called it quits. The good news is that as well as installing a switch, we were able to complete the next switch needed to complete the platform approach crossover. Although I was pushing to get both installed today and that did not happen, we are still several days ahead as the second switch was going to be next week's project.
.
Thanks everyone for a great weekend of work. We did really well.
.
Posting by Michael Guy; Pictures by Michael Guy and Lance Gleich
.