Weekend Work Report: Mini F7 Returns to Roundhouse Park!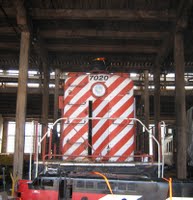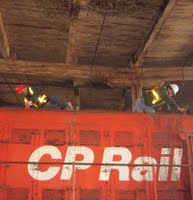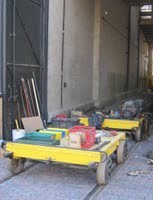 Click on each picture for a closer look!
.
Here is James Rasor's take on today's work party session:
.
"It was a good work party today. While some of the members were at the
Simcoe County Museum's Last Blast
, a small team stayed and did some much needed maintenance jobs at the Roundhouse. With some help from Michael Guy, who managed to be in both places today, we moved some equipment to Stall 15 that will be needed later. We also started the clean-up on the CP7020 roof to prepare it for priming it with paint for winter protection and managed to get the headlight and number plates illuminated again. Another small maintenance task was to give the tie carts a good cleaning, remove garbage, and reorganize the carts for the next work party. The Fowler box car had its platform and stair brought back into place at its door to allow the crew easier access into it - all that is needed now is electrical to hook up the lights inside. And best of all for the day, Russ Milland returned Michael Guy's CN F7 Miniature Railway locomotive from the Golden Horseshoe Live Steamers' track in Hamilton where it has been seeing great service pulling passengers all summer. We all hope to see this locomotive up and running at one of our next work parties pulling our miniature railway MOW (Maintenance of Way) train and testing our new miniature railway track which is very close to being finished."
.
Note also in the lower right picture that we were visited by a couple of fellows on bicycles built to ancient old designs.
.
Posting by Russ Milland; Pictures by James Rasor and Bob Dickson
.