The CPR Holiday Train Visits Southern Ontario Once Again!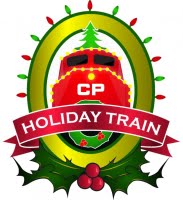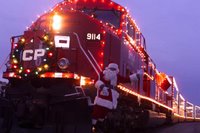 Click on each picture for a closer look!
.
.
Continuing their tradition of operating Holiday Trains which visit communities throughout the CP railway system, the CP announces the following at their webiste:
.
"The Canadian Pacific Holiday Train hits the rails again this November, visiting over 130 communities in eight states and six provinces. In the last decade, the Holiday Train has helped raise $4 million and 2 million pounds of food for local food banks.

.
In these tough economic times, 20% more Canadians are turning to food banks for support this year and 30% m
ore Americans are at risk of hunger. Hunger continues to be a problem and food banks need our help now more than ever.
Bring a cash or food donation to the Holiday
Train event in your community and help feed the need.
Click here to donate online to the CP Holiday Train through Food Banks Canada."
.
There are two trains visiting our area. Here are the scheduled stops in our area:
Monday, November 30th
Bowmanville:

7:00 p.m. to 7:30 p.m., Scugog Road railway crossing
Oshawa

: 8:45 p.m. to 9:15 p.m., CP level railway crossing at Thornton Road
Tuesday, December 1
Toronto

: 6:30 p.m. to 7:00 p.m., 87 Ethel Avenue, adjacent to RONA
Hamilton:

8:15 p.m. to 8:45 p.m. (U.S. Holiday Train), western area of Kinnear Yard, opposite Gage Park
Vaughan

: 9:00 p.m. to 9:30 p.m., Northwest corner of CP Vaughan Intermodal Yard and Nashville Road, near grain elevator
For more information on the other 100 stops, schedule changes and more pictures, visit the Canadian Pacific Railways website by clicking here:
by Russ Milland, TRHA
.
.