Historic Note: Diesel Replaces Steam at Eaton's Toyland - November 8th, 1956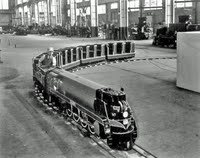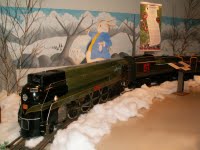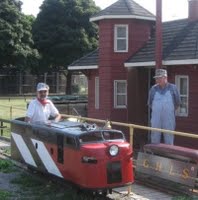 Click on each image for a closer look!
.
Derek Boles, TRHA's historian, publishes a daily posting on the Toronto Railway Heritage Yahoo Group List. These postings document major events in Canadian history that happened on that day of the year. One of today's items is as follows:
.
"November 8, 1956:
.

Eaton's Queen St. department store opens Toyland for the Christmas shopping season with a replica CN diesel locomotive pulling Santa's Express rather than the CN 6400-series steam locomotive that had delighted children since 1945. Both engines were amusement park sized replicas driven by electric motors. The new diesel was a model of Canadian National No. 6500, a General Motors FP9A. The steam locomotive is now on display at
Exporail
."
.
If you wish to read these daily postings from Derek, simply join the Yahoo
Group by
clicking here
.
.
In 2007, Derek also provided us with an article with a brief history of "
Toronto and Its Miniature Railways
" which you can read in its entirety in the "From the Archives" section of the TRHA website by
clicking here
.
.
This is the excerpt from that article that speaks to the Eaton's Toyland operation:
"Another popular miniature railway remembered fondly by Torontonians who grew up in the years following World War II was the Toyland Treasure Train at Eaton's department store on Queen Street. The train was hauled by a replica of Canadian National Railway's streamlined No. 6400 steam locomotive introduced in 1936 and still the most modern passenger engine in Canada, since new locomotive development had virtually halted during the war. The scale locomotive was built by CN's Point St. Charles shops (see image at above left) in Montreal as they geared down from war production and were preparing the transition back to peacetime. Children paid a quarter to ride the train through the Rocky Mountain Scenic Canyon, Doll Land, Topsy Turvy Town and Santa's Northland Castle. In 1956, Eaton's replaced the engine with a miniature diesel locomotive. The original 6400 replica is now on display at the Canadian Railway Museum near Montreal. (see the middle image above)."

.
In the image at the above right, we see an example of a miniature 15 inch gauge amusement park diesel which could be this actual Eaton's engine or at least is a very similar to the diesel used to replace the steam engine at Eaton's. The locomotive in this picture was found as a body shell only by Russ Milland in Wasaga Beach, Ontario. It was acquired by Michael Guy and fitted out with a new gas-hydraulic driven 7 1/4" chassis and has been operated by Russ and Michael for a number of seasons at the
Golden Horseshoe Live Steamers
in Hamilton, Ontario, Canada.
.
We reported on the resurrection of this engine in an earlier posting which can be viewed by
clicking here
. As mentioned in an even more recent posting, this engine will be used in the next few weeks to test our new miniature railway track at Roundhouse Park.
.
Posting by Russ Milland