Historical Note: Opening of the Toronto, Grey & Bruce Railway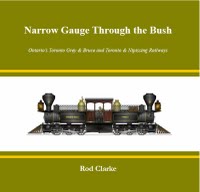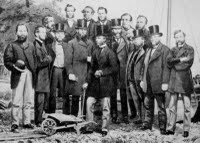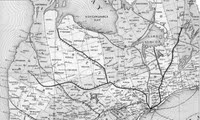 Click on each image for a closer look!
.
Derek Boles, TRHA's historian, publishes a daily posting on the
Toronto Railway Heritage Yahoo Group List
. These postings document major events in Canadian history that happened on that day of the year. One of today's items is as follows:
"November 3, 1871:
The official opening of the Toronto, Grey & Bruce Railway (TG&B) between Toronto and Orangeville. Along with the Toro
nto & Nipissing, the TG&B was one of two narrow g
auge railways to be built into Toronto in the 1870s. As the first
Union Station had been demolished and the second was under construction, the TG&B occupied a temporary Toronto terminal at the foot of York Street. When the new Union Station opened in 1873, the northernmost track through the trainshed was built to 3'6" gauge to accommodate the TG&B. The primary advantage of narrow gauge was lighter engineering standards, hence cheaper construction costs, but this proved to be a false economy as the equipment was incompatible with connecting railways and both railways were rebuilt to stand
ard gauge at great expense a few years later. The TG&B was briefly taken over by the Grand Trunk, then leased to the
Ontario & Quebec Railway in 1883, which became p
art of the Canadian Pacific Railway in 1884."
.
If you wish to read these daily postings from Derek, simply join the Yahoo Group by
clicking here
.
.
Rod Clarke of Toronto, Ontario, Canada recently published a wonderful book -
Narrow Gauge Through The Bush
- about the Toronto, Grey & Bruce and its sister narrow gauge railway, the Toronto & Nipissing, based on his decades of research into the history of these railways. One of the images above from the book shows Prince Arthur turning the first sod on the TG&B while the other shows a map of the two railways. In the middle image below, we see the first train to leave for Owen Sound once the railway had reached that far. In the other two images below, we see two of the original steam engines which were imported from England for use on the line. For more information on these railways, visit the book's website by
clicking here
and browse the website and then follow the links to other sources of information.
.
Posting by Russ Milland; Pictures from
Narrow
Gauge Through the Bush
by Rod Clarke
.