Making History: TRHC's 1st Freight Move!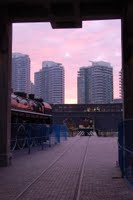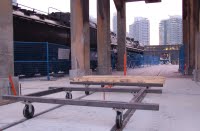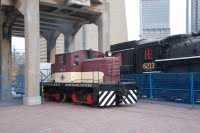 Click on each picture for a closer look!
.
In the picture at the above left, we find our CLC Whitcomb Locomotive #1, awakening on the turntable at sunrise with the moon looking down as preparations begin for another milestone event at Roundhouse Park.
.
As mentioned in earlier TRHA News postings, Derek Boles, TRHA's historian, publishes a daily posting on the
Toronto Railway Heritage Yahoo Group List
. These postings document major events in Canadian history that happened on that day of the year. Last Friday's posting documented an "instant historical item" item as follows:
.
"Friday, October 30th, 2009
.
The Toronto Railway Heritage
Centre (TRHC) operates its first legitimate freight train (as opposed to just moving equipment around) when Steam Whistle Brewing
took delivery of a new canning machine. The machine was loaded onto a custom rail car (see picture - middle above) at the end of track 33 under the coaling tower and moved to the turntable and then to stall 8 of the roundho
use using TRHC #1. The rail move was necessary since the new patio paving stones surrounding th
e turntable precluded a truck move from Bremner Boulevard."
.
If you wish to read these daily postings from Derek, simply join the Yahoo Group by
clicking here
.

.

Posting by Russ Milland; Pictures by Lance Gleich
.