Roundhouse Restoration Picked as "Best of Toronto"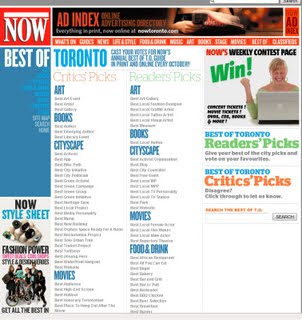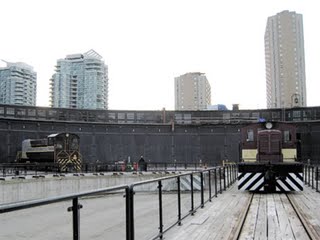 Click on each image for a closer look!
.
NOW Magazine is published weekly as one of the major voices of the Toronto news and entertainment scene. It is distributed free across Toronto every Thursday. They also have a strong online presence
here
. On their website they prominently feature a "Best of Toronto" list which focuses on the best Toronto "things" in a number of categories as shown on the webpage displayed at the upper left and also found
here
. The best "things" are chosen either by the voting public or by their group of crticis. In the category of "Best Reclamation Project" under "Cityscapes" we are pleased to announce that the John Street Roundhouse was selected this year and sports an
excellent description
as follows:
"An oasis in a condo desert, the last of Toronto's rail roundhouses is the perfect link to our rich rail past and a reminder of its future potential. This National Historic Site wins as a mixed-use facility that houses the Toronto Railway Historical Society, a Leon's Furniture store and Steam Whistle Brewing. Check out Canadian National steam engine 6213 right in the middle of the building and be awed by days gone by."
.
At their website, they appropriately reference our website and include a fine photograph by Paul Terefenko as also shown above.
.
Another rail-themed location, the West Toronto Railpath, also won in the catgory of "Best Bike Path". Read about their win
here
. We also posted two news items in the past about the Railpath which can be read
here
and
here
.
.
Read about the many other winners in their categories by visiting NOW's website by
clicking here
.
.
Posting by Russ Milland