Weekend Report - Christmas Train Show: TRHA & Tatamagouche!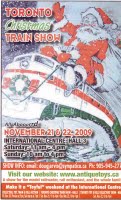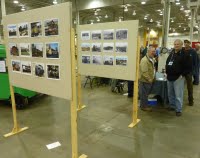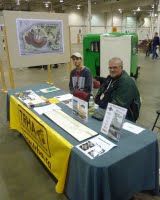 Click on each image for a closer look!
.
Many of us TRHA folk were busy this past weekend manning the TRHA booth and otherwise participating in the Christmas Train Show as described in an
earlier posting
. Saturday was quite a busy day with a good number of visitors while Sunday was somewhat quieter. In the pictures above we see the TRHA booth with our panels of pictures, both historic and more current. Orin Krivel, Derek Boles, Dave Wetherald, Jason Pelton and Bob Dickson primarily manned the booth. On Sunday, Jason and Bob brought in equipment that allowed us to show videos of the steaming of our Sweet Creek locomotive. The locomotive was also brought to the event and will be the subject of tomorrow's news posting.
.
Meanwhile "back at the ranch" (i.e. Roundhouse) on Saturday, Bob Dickson and Jim Gardiner probed our CNR GP7 #4803's engine to discover that the sump had no oil in it so we will have to acquire 200 U.S. gallons or 757 litres of oil in due course before trying to fire it up. They also engaged in dialogue with visitors which often happens on Saturday mornings. Two of these visitors were from Belgium and were up in the CN Tower when they spotted Roundhouse Park and rushed down to find out more about us before heading home.
.
We were also pleased to have two members of our
TRHA online group
visit us on Saturday from Tatamagouche, Nova Scotia. One of them, James LeFresne, is the owner of the
Train Station Inn
in Tatamagouche. In 1974, James purchased the station (originally built in 1881 for the Intercolonial Railway) when he was only 18 years old to save it from being demolished. He has since added 7 cabooses and a dining car to their bed and breakfast (and more) operation. They now offer what has been voted one of the top 10 unique places to stay in Canada. Do visit their website by
clicking here
and especially check out their rich history and their photo album. Below are some images from their website.
.
Posting and Pictures by Russ Milland & The Train Station Inn
.