Weekend Report: Saturday's Progress!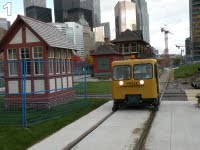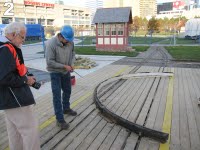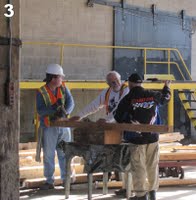 Click on each image for a closer look!
.
We open this news posting with a great shot by Michael Guy (Image #1) of the recent testing of our track using a visiting speeder as reported previously.
.
This past Saturday, James Rasor reports that "We had a good work party and welcomed a guest, Dave, from south of the border who is an active online fan of our venture and visits Toronto once a year for the Royal Winter Fair with his family. We started the day walking the site with Dave and reviewing the progress since he was here last year. Tom Murison gave us a review of the work-in-progress on the Don Station (Image #6) and showed us the woodwork that is being to replaced due to the old fire that damaged it in the past (Image #2) . Not wanting Dave to get too relaxed we put him to work helping us pull nails from wood that will be salvaged and put to good use later (Image #3). Others continued to work on switches and the restoration of the caboose. We also continued our quest to discover the true colours under all the paint layers on the TH&B caboose. Sadly, we could find no traces of any kind of any green paint schemes (Image #4). We had hoped that the caboose's historic paint schemes included a suspected early TH&B green scheme. We did enjoy a good laugh at all the different types of fasteners found on the Caboose metal sheathing (Image #5). "
.
Posting by Russ Milland; Picture #1 by Michael Guy; Pictures #2 to #6 by James Rasor
.