Weekend Report: Trackwork Progresses Towards Completion!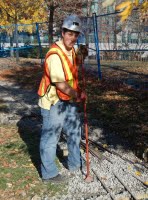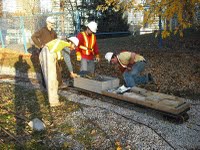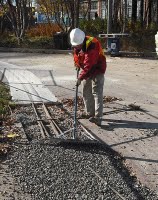 Click on each image for a closer look!
.
All together we had a great weekend with good weather, a
little sunshine, lots of help and plenty accomplished.
.
Five volu
nteers turned out on Saturday. We especially welcome Brian (see picture at upper left) who took the train in from Kitchener to be with us for the day for his first work session.
The mainline w
ye switch trackage was completed and much ballast spread in that corner (see picture at upper right) and at the crossover. We used our miniature railway work car, "Chester", to test the track as we progressed (see pictures at upper middle above and below). We also unloaded the miniature
F7 Diesel from its trailer and ran
it up and down the station platform track just for fun
.
.

On Saturday, we also attacked a number of other projects on our task list. The stall 15 roof vent re-installation went well. The trash was dumped and the depot transformer got a bit of a vacuuming out. Finally, we also loaded our
Sweet Creek miniature steam engine and tender onto two trailers so they are ready to transport to the Christmas Train Show
next weekend. We will post news about this event later this week
!
.

On Sunday, a smaller crew of three
finished the details of the mainline wye switch and attacked the job of levelling the track over by
the Bremner sidewalk west of the exit bunker. This area was substantially low, needing lifting and the addition of more ballast.

.

Posting by Michael Guy; Pictures by Lance Gleich & Stephen Gardiner
.