Weekend Report - Xmas Train Show: A Tour of Other Exhibits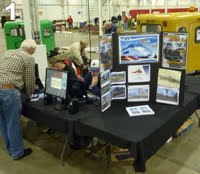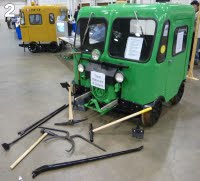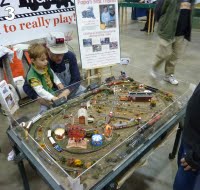 Click on each image for a closer look!
.
In this final chapter of our report on the Christmas Train Show, we will highlight a number of exhibits which may be of interest to our readers as follows:
#1:
At this booth, Jon Hull, Tom Landers and Russ Milland of the Railway Simulations Group of the TRHA demonstrated railway simulations systems and especially the Toronto Railway Lands simulation which was developed by a team of 10 of us for future use in an interactive exhibit at our museum. For more information about our plans in this area,
cli
ck her
e
.
#2:
Track Motorcars of Ontario, a group of enthusiasts who restore motorcars (also known as speeders) exhibited two of their motorcars as well as videos of the periodic trips that they take with these motorcars on various railway lines throughout North America. They have and will participate in our annual Doors Open event at Roundhouse Park.
#3:
This retired gentleman has built a very interactive small layout in an effort to provide youngsters with an interactive experience in running it. This is always a popular attraction at the show. It provides an excellent seed idea for what might be developed for our museum as well in due course.
#4:
This is partially completed example of one several small "micro-layouts" on display built by members of a local group called "
Narrow Gauge Madness
"" They specialize in building these very small very portable layouts and then super-detailing them. They too participate in our annual Doors Open event as well as hosting an annual Train Show of their own in the spring. Watch for an announcement of their show here in 2010.
#5:
This is an example of just how small a layout one can build if you use what is know as Z-Scale model trains which are built to 1:220 scale. Using this scale, layouts have been built in spaces as small as pizza boxes.
#6:
There is an active group of modellers using Lego's model train systems to build extensive layouts. Here we show a small portion of their layout.
.
Posting and Pictures by Russ Milland
.