Another Week of Progress at Roundhouse Park!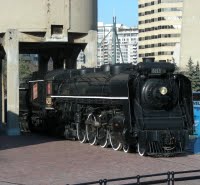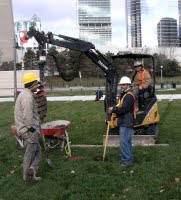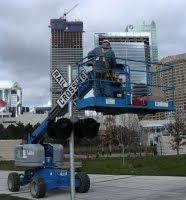 Click on each image for a closer look!
.
We open this week's report with a fine shot of 6213 in the early morning light with the fencing having been removed from around the engine providing a much better view.
.
This week, progress was made on multiple fronts at Roundhouse Park. In the middle photo above, a post-hole digging crew poses for the camera! Cedar posts are being installed across the park as supports for electrical outlet boxes for rail car and locomotive display lighting. At the upper right, an electrician pulls wiring into the first of two crossing barrier posts.
.
In the pictures below, we have two images of Nick from Western Mechanical delivering the F7 cab's skirt to our speeder carts on track 40 by Don Station. The skirt is upside down in these photos. The cab had also arrived but will nto be moved into the park until Staurday.
.
Finally in the last picture below, we find the
Pine Valley contractors busy completing the miniature railway depot building. The roofers were roofing, the door contractors were hanging the roll-up doors and the landscapers were doing their thing. The goal was to complete all remaining work by the end of the day on Friday. That being the case, Saturday's work crews will lay the very last of our miniature track up to the miniature railway turntable.
.
Posting and Pictures by Michael Guy
.