Field Report: Halton County Radial Railway's Christmas Event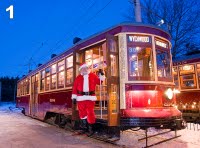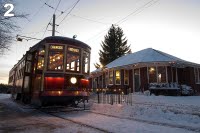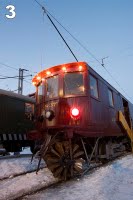 Click on each pictu
re for a closer loo
k!
.
Once again, the
Halton County Radial Railway Museum
hosted special Christmas trolley trips at their museum last December 5th and 12th from 1:00 p.m. to 9:00 p.m. They are located on Guelph Line a few kilometres north of the 401 Highway in Milton, Ontario. In the pictures here we see some remarkable images of their evening and night operations taken by Stephen Gardiner through the artful use of a powerful flash camera. As they say on their website, "There is nothing like riding the rails through the woods with snow on the trees and singing Christmas carols."
.
#1:
One of the operators, shown here on the steps of the small Peter Witt streetcar, was dressed as Santa.
.
#2:
The large Peter Witt streetcar at the Rockwood Station as dusk falls.
.
#3:
Recently restored ex-TTC S-37 Snow Sweeper which was in action on the trolley line.
.
#4:
The driving car of the Rail Grinder TTC Rail Grinder W-30. The second car which actually did the rail grinding is awaiting restoration.
.
#5:
The Oshawa Railway #45 overhead line car.
.
#6:
The large and small Peter Witt streetcars waiting at Rockwood Station for their next trip down the line.
.
To see more of Stephen Gardiner's images visit his
Flickr image library
.
.
Posting by Russ Milland; Pictures and Captions by Stephen Gardiner
.