Field Trip - Pennsylvania Railroad Museum - Part 2 of 3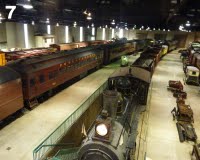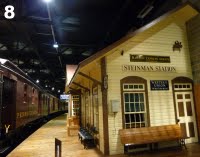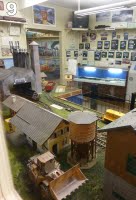 Click on each image for a closer look!
.
Continuing our tour of the Pennsylvania Railroad Museum, we offer the following captions to the images.
.
#7:
The main display pavilion for the engines and rolling stock has an overhead walkway across the middle of the pavilion which leads to a second floor display of small artefacts and a railway art and photography gallery. This image shows one half of the this very large display space. The corridors between the trains are very spacious and leave you with the feel of being in a railway yard.
.
#8:
The museum designers have cleverly built a "half station" in front of one of the side walls of the pavilion with a passenger platform in front of it and a passenger train on the track which provides a wonderful feel of being a passenger waiting for a train.
.
#9:
The museum used the interior of the half station to develop an area of interactive exhibits primarily focussed on young children to allow them to experience and operate trains. Here we have a peek into this area.
.
#10:
Here we see one of several large (but not full size) static displays of the interior of diesel and steam engines with explanations of how the engineers operated the trains. Being three dimensional, these were quite effective.
.
#11:
The museum also created very effective displays of typical railway operations right on the floor of the pavilion among the engine and rolling stock displays. Here we see a track gang at work.
.
#12:
Here we see another vignette of railway operations with a crew putting blocks of ice into the end of a refrigerator car (call "reefers" in those days) used to haul fresh produce and fruit on special fast trains (what we might now call "unit trains") in the days before we had mechanical refrigeration equipment.
.
Posting and Pictures by Russ Milland
.