Historical Notes: The Pyke Crane in Action!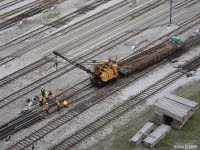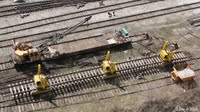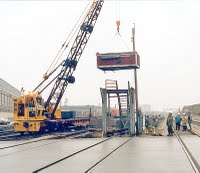 Click on each image for a closer look!
.
Often it has been difficult to find pictures of our equipment in operation. In the case of the Pyke crane, we are fortunate to have access to several pictures of it at work in the rail corridor in downtown Toronto. In the picture in the left above by Dan Dell'Unto, we find Toronto Terminal Railway (TTR) employees at work on a switch east of Union Station in October of 2005. The right hand picture (also by Dan) shows the crane parked among maintenance of way equipment just east of Union Station in April of 2007. Dan notes that he almost always saw the crane paired with an old CP friction-bearing flatcar TTR (formerly CP 302839). In the final image by Gene Burles, we find a similar Pyke crane owned by Go Transit at work removing the Strachan Avenue crossing tower in December of 1984.
.
Posting by Russ Milland; Pictures by Dan Dell'Unto & Gene Burles