Our F7 Cab Prepares to Hit the Road!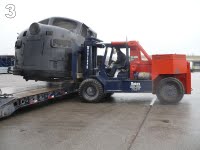 Click on each picture for a closer look!
.
Our F7 Cab, newly repainted as discussed in two recent TRHA News postings (
here
and
here
), is coming soon to Roundhouse Park. In this sequence of pictures, we see the Cab being loaded onto a float in preparation for the trip. Loading the cab was no mean feat as it weighs 14 tons. When railways first began building diesels, they felt they had to build them with the same heavy steel that they had used to build steam engines.
.
Posting by Russ Milland; Pictures by Dave Wetherald
.