Historic Image: Earliest Photograph of an Operating Roundhouse?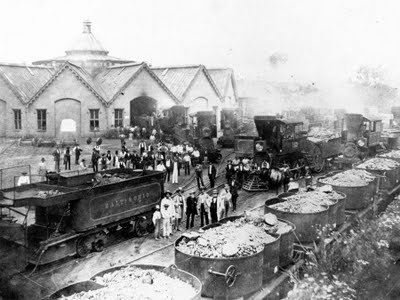 Click on the image for a closer look!
.
In my recent article on the history of railfannning, I included an 1858 photograph, probably the earliest image known that shows that activity. The photograph depicted the Artists' Excursion at Tray Run, Maryland in 1858. One of my Christmas gifts to myself was a used copy of Engineer's Witness by Ralph Greenhill, published here in Toronto in 1985.
.
One of the images in that book shows the same excursion visiting the Baltimore & Ohio Railroad's roundhouse at Martinsburg, West Virginia in June 1858. The number of well dressed people standing around a working roundhouse indicates that this is an unusual event.
.
It is also the earliest photograph I've been able to locate that shows an operating roundhouse. In the foreground can be seen some of the iron triple 'pot' hoppers used by the B&O to transport coal. Locomotive No. 167, right of centre, was a Camel-type 4-6-0 engine, so named because its cab was on top of the boiler. In 1861, the roundhouse was destroyed by the Confederate army during the Civil War.
.
Posting by Derek Boles, TRHA Historian