Historic Images: Midland Railway of Canada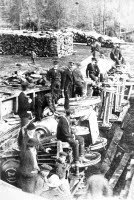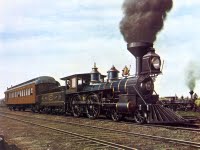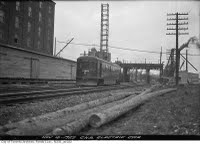 Click on the image for a closer look!
.
Here's an interesting photograph from Edward Forbes Bush's book "Engine House and Turntables on Canadian Railways." The only information on this National Archive of Canada image is "Turntable pit mishap, Beaverton, Ontario, n.d." (no date). Beaverton, on the eastern shore of Lake Simcoe, is now located on Canadian National's Bala Sub. 64 miles north of Toronto. The first railway into Beaverton in 1871 was the Midland Railway of Canada.
.
The number on the front of the unfortunate locomotive is No. 17. This creates a bit of a research problem since the Midland had two No. 17s as a result of a renumbering in 1874. We will assume that this is the second No. 17, a 4-4-0 built by the Portland Company that same year. This engine was named for Charles Burt. I have no information on who he was although it was common to name locomotives after directors of the line or financial backers.
.
The colour illustration by Jack Hill shows Midland No. 15 in somewhat happier circumstances than her sister locomotive. This illustration was prepared for a British book, "Railways of Canada" by O.S. Nock, published in 1973. Although attractive, the image's accuracy is somewhat questionable since it appears to be based on a photograph taken in the 1890s, long after No. 15 had left the system, of an altogether different locomotive at Lindsay. No. 15 was named after Adolph Hugel, who was the president of the Midland.
.
According to Ray Corley's Grand Trunk locomotive roster compiled in 1982, Midland Nos. 13, 15 & 17 were sold to the Credit Valley Railway in 1877 so that does provide a time frame for the mishap photograph. Midland No. 15 became CVR No. 2, then Canadian Pacific Railway No. 179 and was scrapped in 1911. Unfortunately the research trail runs cold for No. 17 as it is not listed in Omer Lavallee's CPR locomotive book. Record keeping at the time was much less stringent so No. 17's absorption into the CVR may have actually occurred. If so, it's likely that all three of these engines would have been serviced at the CVR's Parkdale roundhouse. There will be much more about that facility in a later instalment.
.
The Midland Railway itself had access to Toronto when it took over the Toronto & Nipissing Railway in 1881 and both railways were absorbed by the Grand Trunk Railway in 1883. However, there was no direct train service between Toronto and Beaverton. The May 1872 timetable reproduced here shows train service between Port Hope and Beaverton. Toronto passengers had to travel a total of 129 miles to reach Beaverton. The situation improved considerably when the Toronto & Nipissing Railway opened in November 1872 and established a junction with the Midland at Lorneville, just north of what is shown as Woodville on the timetable.
.
A much more direct route was established when the Canadian Northern Ontario Railway opened between Toronto and Parry Sound in 1906. In the 1920s, Canadian National established a motor car service between Toronto and Beaverton. Storage Battery Car No. 15801 is seen descending the Don Valley in 1922. To the right of it, the Gerrard Street bridge is being rebuilt.
.
Motor cars were more economical to operate than conventional steam trains. CN stabled a large variety of them using different technologies throughout their vast system over the years to service lightly traveled or off-peak passenger service. Motor cars based in Toronto ran to Oakville, South Parry, Weston and Hamilton. CN also operated a service between Lindsay, Beaverton and Midland until the late 1950s. There were about 15 storage-battery cars, all of which were retired by the 1940s. The limited range of the batteries proved to be a problem, one that still plagues battery technology today. Other types of self-propelled motor cars operated into the 1950s, when their role was taken over by the much more successful Rail Diesel Cars built by the Budd Company. Even GO Transit tried using self-propelled coaches in its first few years of operation until they were deemed unsuitable for the heavy passenger traffic along the Lakeshore. It's likely that similar cars will be used for the Union Station-Pearson Airport Express when it's finally established.
.
As far as Beaverton is concerned, today VIA's Canadian and the ONR's Northlander pass through the town although passenger service ended in 1990 when the ONR's overnight train, the Northland was discontinued in the VIA cuts.
.
Posting by Derek Boles, TRHA Historian
.