Historic Note: 15th Anniversary of the Moving of the Coaling Tower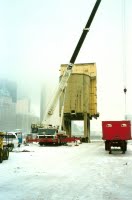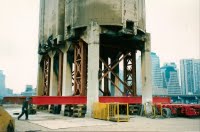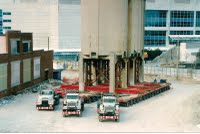 Click on each image for a closer look!
.
Derek Boles, TRHA's historian, publishes a daily posting on the Toronto Railway Heritage Yahoo Group List. These postings document major railway oriented events that happened on that day of the year. One of today's items is as follows:
.
"January 24, 1995:
.

The massive 75-foot high coal and sanding tower at the former Canadian Pacific John Street Roundhouse is moved 600 feet from what is now the corner of Lower Simcoe Street and Bremner Boulevard to the northwest corner of the roundhouse. The silos of the tower were underpinned with steel bracing, and the entire structure was moved on three huge rubber tired trailers. The moving company, ETARCO, claimed this was the heaviest single object ever moved in Canada. The move was necessitated by the southern expansion of the Toronto Convention Centre, which was carried out from 1994 to 1997. Bays 1-11 of the roundhouse were disassembled and later re-erected and occupied by Steam Whistle Brewing. Unfortunately the 360-foot long brick stores building was demolished, losing a potentially valuable asset for the Toronto Railway Heritage Centre. The John Street facility was built between 1928 and 1931 and once comprised 43 structures, of which only three survive: the roundhouse and machine shop, the coaling tower and the water tower."
.
The company that moved the tower is now part of
Mammoet
. They provided us with the images seen here of the actual move. For more information on the move, read our
earlier News Post
.
.
If you wish to read these daily postings from Derek, simply join the Yahoo
Group by
clicking here
.
.

Posting by Russ Milland with photos provided courtesy of Ken Musselman of Mammoet.