Weekend Report: Progress on Many Fronts!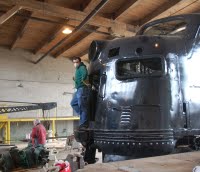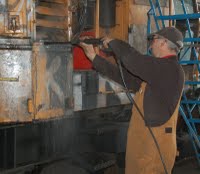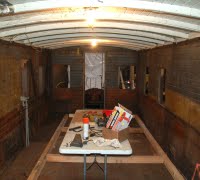 Click on each
picture for a
closer look!
.
For a January day, Saturday turned out bright and sunny and felt like it was at least 18 degrees C. We had a great turnout of volunteers and much was accomplished. Now that we have finished our track construction, we undertook a major cleanup and reorganization of the machine shop area and now have a large clear area to work in. Progress was also made on the ongoing renovation of the TH&B caboose and inside the F7 diesel cab.
.
The driving instructor's seat for the Sweet Creek tender was completed and painted black so it almost disappears from view. It quite comfortable with a properly padded seat. The whole assembly has been built as a lift-off unit to allow fast access to the fuel filler cap below. We also painted the miniature railway turntable and the F7 cab doors.
.
Earlier in the day we had a visit from Gary, the last operator of the Pyke crane for the Toronto Terminal railways (TTR). We had a great chat and took extensive notes on the controls and idiosyncrasies of the crane.
.
Posting by Michael Guy; Pictures by Lance Gleich
.