Weekend Report: A Team of 12 Tackles Many Tasks - Part 2 of 2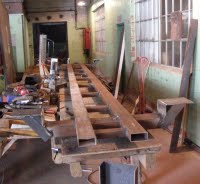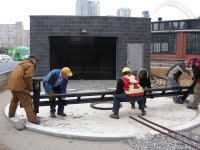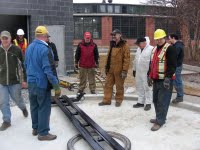 Click on each picture f
or a closer look!
.
Turning to the miniature railway Train Depot area, Saturday's work crew addressed the challenge of fitting the turntable bridge. As shown in the pictures, it was all hands on deck in order to carry the miniature railway turntable from stall 16 of the Roundhouse to the turntable pit where we found that it was a wee bit too long to fit! So we quickly re-surveyed the pit concrete to check the centre point and determine the proper length. In these pictures, note also that doors have been fitted to the miniature railway Train Depot thereby protecting it from the elements. We also took the opportunity to work on the addition of a new siding against the north wall of the Train depot as shown in the photographs below.
.
On Sunday, a smaller crew continued work on the F7 Cab, the TH&B caboose and the Pyke Crane.
.
We designed the miniature railway to support both 7 1/2" and 7 1/4" gauge equipment. So, on Sunday, we also undertook a test trip around the miniature railway with a borrowed 7 1/4" gauge 1 1/2" scale gondola car looking for issues we might have with this slightly smaller gauge of equipment. A few minor issues here and there with track gauge will be easily remedied.
.
Posting by Michael Guy; Pictures by Stephen Gardiner, Lance Gleich, Michael Guy & Mike Salisbury
.