Book Review: Rails Around the GTA by Thomas Blampied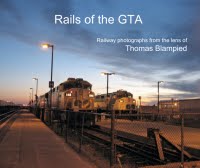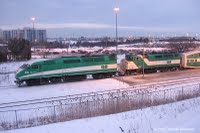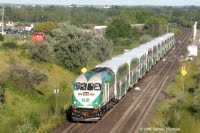 Click on each picture for a closer look!
.
Thomas Blampied first came to our attention when he offered us the use of a picture he took of the TRHA's Pyke Crane in action. I then became aware of his railway images at p
hotopic.com
on the Internet. I was very impressed with the very professional quality of his photography. I then noticed that he had a link to a book that he self-published electronically on the Internet using an on-demand publishing service. This is an exciting new way for an author to publish a book without having to heavily invest up front in a large print run. Intrigued by the quality of the sample pages on the publishing website, I bought a copy online. This triggered the publishing service to use their automated computers to print a single copy and then mail it to me so that I received it a week or so after ordering it.
.
I followed up with Thomas for more information about the book and he advised me as follows:
.
"I actually started the project last year while I was studying in the United Kingdom. I found that there was a lack of books on GTA (Greater Toronto Area) railways (especially contemporary). I felt that it would be a good idea if there was a record for historians and enthusiasts to look back on in a few decades time. The photos themselves were taken over a period of about six years and the book itself took about one year from first draft to final publication in June 2009.
.
For me, the most interesting part is how the book's theme of change has been so apparent already. I look at my photos of the GO Bathurst Yard, the CP Oshawa Yard and even the GO yard at Whitby and changes are apparent even in my one year away! I wonder what other locations in the book might look like in the future?
.
It was a challenge to come up with favourite photos (most of the book is favourite photos and the first draft was double the size) so I have chosen a variety of shots showing historical events or interesting trains. I hope that you like them."
.
The book is a softcover 80 page book printed on very high quality paper and includes 86 colour photographs and 2 in black and white for dramatic effcet. Thomas has included textual introductions to each section and has extensively captioned each photogrpah to explain them. I thoroughly enjoyed the book and recommend it to others. While its cost may at first seem high at about $40.00 including shipping to Canada, one must remember that this is self-published using an on-demand publishing facility which is currently more expensive than a book printed in a large volume run. For the serious railfan, the cost is quite affordable to my mind.
.
Included here are a number of images from the book as follows (from the upper left):
.
Rail of the GTA - Book Cover
1st Revenue Producing run of the new GO MP40 with EMD FP9 #560 along as insurance
New GO MPI MP40 #610 running through Whitby towarsd Oshawa
CN EMD GP9's #7082 and #4102 pulling a Scale Test Car at Whitby
ONR EMD GP38-2 #1805 pulling the Northlander into Union Station with a GO Bilevel car destined for the ONR paint shops
The TRHA Whitcomb #1 beside the John St. Roundhouse

.
You can view Thomas gallery of great railway imagesby
clicking here
. at To learn more about the book and view sample pages,
click here
.
Posting by Russ Milland; Images by Thomas Blampied
.