Historic Note: Opening of the CNR Roundhouse in 1927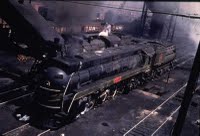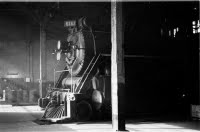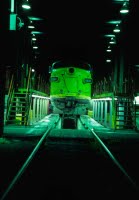 Click on each image for a closer look!
.
Derek Boles, TRHA's historian, publishes a daily posting on the Toronto Railway Heritage Yahoo Group List. These postings document major railway oriented events that happened on that day of the year. One of today's items is as follows:
"February 2, 1927:
.
Canadian National Railway opens the Toronto Locomotive and Car Facilities, more popularly known as the Spadina Roundhouse. The new facilities were part of the massive railway redevelopment taking place in the 1920s in conjunction with the new Union Station and elevated waterfront viaduct. Much to the delight of train enthusiasts, the Spadina Avenue bridge crossed over the engine terminal, providing an easily accessible vantage point for three generations of rail photographers. The facilities included a 36-s tall engine house with a 100-foot turntable and a coach yard accommodating 275 passenger cars. Construction was carried out by Anglin-Norcross, who would later build the CPR John Street facilities.
.
The Spadina site was first occupied by the Ontario, Simcoe & Huron and Grand Trunk Railways in the 1850s. A few years later, the GTR built a fully enclosed roundhouse and turntable which, as it turned out, was not to be the first domed structure on the site. Spadina remained CN's principal passenger facility in Toronto and was taken over by VIA Rail in 1978. The facilities were closed in 1986 after VIA relocated to Mimico and Skydome now occupies the site."
.
If you wish to read these daily postings from Derek, simply join the Yahoo
Group by
clicking here
.
.
In the pictures here of the roundhouse and its immediate surroundings, we find the following images starting at the upper left image:
.

May 5th, 1956:

CNR #6401 4-8-4 Northern in the service area beside the roundhouse

January, 1966:

CNR 4-8-4 Northern #6167 inside the roundhouse

July 14th, 1985:

FP-9 #6506 inside the roundhouse

January, 1966:

Inside the Spadina Shop attached to the roundhouse

May 20th, 1985:

Spadina Roundhouse's Wheel Shop and gantry crane

May 30th, 1985:

Back ends of LRC's inside the roundhouse

Posting by Russ Milland; Images by John Vincent
.