Rebuilding a Miniature Romulus 0-4-0 Quarry Engine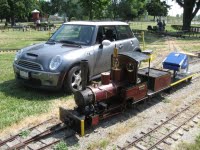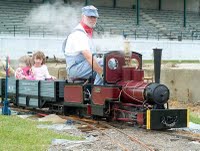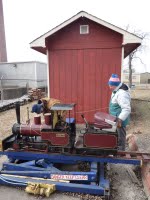 Click on each image for a closer look!
.
A week ago, we fetched a 7 ¼" gauge 0-4-0 quarry-type coal fired steam locomotive from its storage shed in Hamilton, Ontario as shown in the picture at the upper right. This engine was built in the early 1980's to a popular miniature locomotive design by Roger Marsh known as the 'Romulus'. It is typical of the 2 foot gauge Welsh quarry engines used in slate mines and worldwide for light industrial railways in the 1900's. In the pictures at the above left, we see the engine in operation at the Golden Horseshoe Live Steamers track in Hamilton, Ontario and at Milton's Steam Era festival (middle picture).
.
As shown in the remaining photos, the engine is now in the shops being overhauled for use next season as an additional engine on our miniature railway. Here we see it being dismantled in order to get at the boiler and chassis for maintenance work it to ensure that it is robust and safe for next season's operation.
.
Posting by Russ Milland; Pictures by Stephen Gardiner & Russ Milland
.