Weekend Report: Painting the Caboose and F7 Restoration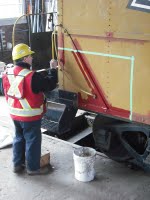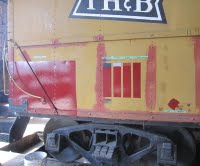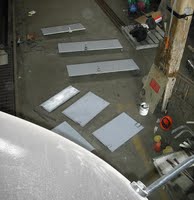 Click on
each picture for a closer look!
.
This past
week
end, our dedicated vol
unteers continued to pursue restoration work. As you will read in these reports by two of our volunteers, the work involves a lot
of small tasks and takes siginifcan
t amounts of time and elbow grease to complete.
.
This is Not a Picasso
b
y James Rasor
.

"Work on the TH&B Caboose went very well this weekend thanks to Bob, Lance, Richard and James. Test paints for the exterior were applied using two samples
provided to TRHA by Benjamin Moore who has been generously helping us match the original red and t
he original yellow applied on top of the red. A small
area is also being tested to see how different primer colours may a
ffect the tes
t paint
before we make a final decision. Inside the cabo
ose, work went very well with all the b
ackside of the metal sheathing painted and all the new structural supports painted."
.
As the F7 turns by Dan Garcia
.


"First order of business was to check the flooring - any spots that we were a bit unsure upon installation last week we
are no longer concerned with. The floor feels as solid if not more so than it di
d before.
.
After that, we got to work. Stephen ripped out the old wires from the ceiling conduits and ran twine in place, while Richard painted the outsides of the
exterior doors - they look great. Richard also finished
painting the steps into the nose, which should be able to be installed next week. The three of us th
en got to work on the v
arious electrical door panels, Richard painting while Stephen and I prepped. We
also removed the
two interior engine room doors and did the same. All of the doors now have a coat of grey met
al primer on o
ne side, and will get the second coat next week.
.
Stephen also did some additional cleaning in the nose of the cab and painted the "kickplate" at the edge of the steps. I took a grinder to some of the bits of metal that were still sticking out a fair distance into the space allocated for t
he sofa."
.
Posting By Russ Milland; Pictures by
Stephen Gardiner,
Lance Gleich a
nd
James Rasor
.