Donation: PNR Railworks Donates a Set of Crossing Gates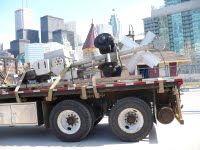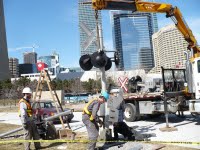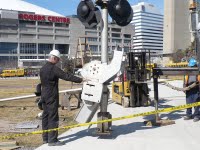 Click on each image for a closer look!
.
Well, you couldn't ask for better March weather, it was sunny, windy and hot at +18.5C!
.
The project for the day was to accept and erect a pair of crossing gates donated and delivered by PNR Railworks. They also promised to help us install them. PNR are the folks who installed all of the standard gauge trackage throughout the park last year.
.
The crane-equipped delivery truck arrived about ten-fifteen and the PNR install crew arrived about noon by which time our team of TRHA volunteers had matters well in hand. All told, it took about us about six hours to get both masts bolted to their mounts. We waved goodbye to the PNR truck driver just before four p.m. In support of the installation, our TRHA team put in a full day's work drilling concrete, epoxying holding studs and pulling wires.
.
We had the work area cordoned off with yellow tape as the park was very busy with families with small children visiting Skydome and a sharp lookout was needed to ensure safety.
.
Posting by Michael Guy; Pictures by Jon Hull & Sandy Wetherald
.