Historic Note: GO Transit Bi-Level Cars Introduced on March 13th, 1978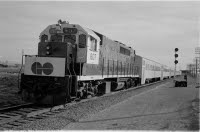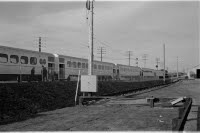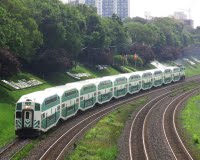 Click on t
he image for a c
loser look!
.
Derek Boles, TRHA's historian, publishes a daily posting on the
Toronto
Railway Heritage Yahoo Group List
. These postings document major railway oriented events that happened on that day of the year. One of today's items is as follows:
.
"March 13, 1978:
.

GO Transit introduces its new bi-level coaches (actually three levels including the intermediate level at each end of the car) in regular service. After experimenting with earlier models of bi-levels with partial upper levels used in Montreal
and Chicago, GO developed an original design that featured a full-width upper floor. The cars were built by the Canadian Car Division of Hawker Siddeley Ltd. in Thunder Bay, Ont. and sat 162 passengers instead of the 94 passenger capacity of the original single-level c ars used by GO since 1967. The design of these cars was so successful that only minor modifications have been made in the past 32 years. The
bi-levels are now manufactured by Bombardier and are used by several transit systems throughout North America."
.
If you wish to read these daily postings from Derek, simply join the Toronto Railway Heritage Yahoo Group List
by
clicking here
.
.

In the pictures above, we see black and white photos of the original passenger cars used on GO Transit's very first day of service on May 23rd, 1967. Also shown above at right is a picture of the bi-level cars in operation on an westbound train just west of the CNE grounds in Toronto. Below, we find a route map which shows how the GO Transit operation has expanded to cover a large part of southern Ontario centred on the GTA (Greater Toronto Area).
.
For more about Go Transit, read the extensive
Wikpedia article
and visit the
Go Transit website
.
.
Posting by Russ Milland; Images by John Vincent,
Wikipedia
and
Go Transit
.