Weekend Report: Record Turnout of Volunteers - Part 1 of 2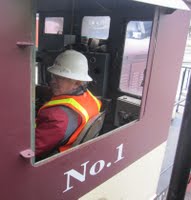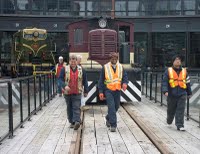 Click on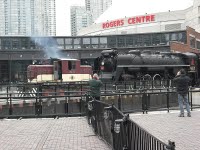 each image for a closer look!
.
Saturday
,
March 20th
.
Lots of activity today at the roundhouse and lots of public wandering through and watching the performance as we shuffled cars and locomotives for a photo shoot by Norm Betts, a professional photographer who has been documenting progress of the development of Roundhouse Park for some time. We actually hit an all-time record high for volunteers on site at one time. There were eighteen of us engaged in various projects.
.
A host of tasks were tackled which included the miniature locomotive workshop, the TH&B caboose, shuffling the rolling stock and engines, moving fences around to facilitate moves, operating the turntable, working on the F7 cab, sealing the floor in the miniature railway depot, installing the barrier arms on the crossing gates, and of course capturing everything in pictures.
.
The weather was perfect for working and photography being cloudy and therefore evenly lit. Not too warm in the afternoon though; we were getting occasional flakes of snow! All together it was a good day and I think everyone either had fun or felt good about achieving a goal on a project. Congratulations to TH&B caboose team as they were able to close up the west wall today with the tongue and groove interior panelling.
.
We also thank volunteer Dave Wetherald for his donation of four new fluorescent lighting fixtures.
.
Sunday
, March 21st
.
I thought the coming of spring was supposed to bring warmth? It was better last week when it was still "winter"! Regardless, a small team completed installation of the mini turntable today. It revolves nicely and it is the right height. We can now proceed to complete the miniature railway tracks leading to the depot. On Sunday, work also continued on the task of stripping the caboose doors.
.
Posting by Michael Guy, Pictures by Stephen Gardiner, Michael Guy & James Rasor
.