Remembrance Day and the CPR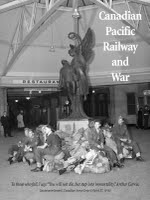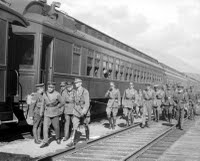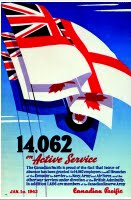 Click on each picture for a c
loser
look!
.
On the occasion of today being Remembrance Dayand as we did last year in a
TRHA News posting
, , we are recognizing the CPR's honouring of those who made magnificent sacrifices for out country by reprinting this year's press release from Canadian Pacific Railways as follows:
.
"Canadian Pacific salutes fallen soldiers

November 10, 2010
Calgary AB and Minneapolis, MN

On November 11th, all Canadian Pacific trains in Canada and the United States will safely halt at 11AM local time, observe two minutes of respect in silence and then sound a long train whistle in tribute. A Remembrance Day and Veterans Day service will also be held at CP's headquarters in Calgary.

On land, sea and in the air, Canadian Pacific, its people, resources, ingenuity and expertise have been needed to support war efforts at home and abroad. "Canadian Pacific recognizes the contributions our employees have made in times of war both past and present" said Scott MacDonald, vice-president transportation. "Many of our employees continue to serve. These brave men and women are a legacy and an inspiration, as are the many CP employees who are today listed military reservists."

Canadian Pacific has been touched by the tragic impacts of World War I and World War II. Over 33 thousand CP employees served in the last century's two world wars. Sadly, 1,774 employees died in battle. In the two World Wars combined, 24 of 74 CP ships were lost to enemy action. In the air, CP pioneered the transatlantic delivery of bombers to Britain. At home, Canadian Pacific's efforts included transporting troops, supplies and equipment in addition to making its shops available for the output of Valentine tanks, engines for frigates and landing craft, naval vessel power equipment components, naval guns, anti-submarine devices and fire-control equipment.

The tradition of service continues, with 44 Canadian and American employees currently listed as reservists. In Canada, CP moves Canadian Forces' equipment and is one of Canada's most supportive employers of primary Reserve Force personnel. In the United States, CP is a proud partner of the US Army PaYS program, which recruits soldiers interested in obtaining a quality civilian job following service to their country.

These brave men and women will be honored at CP's Remembrance and Veteran's Day ceremony. Canadian Pacific executives, employees, Police Service officers, pensioners, members of the Lord Strathcona's Horse Royal Canadians, Canadian Forces King's Own Regiment, Calgary 41st Brigade Group the 2554 Princess Patricia's Canadian Light Infantry Cadet Corps and members of the public will recognize their service at a special ceremony at CP's Calgary Head Office, on 9 Ave SW next to the Steam Locomotive.

About Canadian Pacific:

Canadian Pacific (CP: TSX/NYSE) operates a North American transcontinental railroad providing freight transportation services, logistics solutions and supply chain expertise. Incorporating best-in-class technology and environmental practices, CP is re-defining itself as a modern 21st century transportation company built on safety, service reliability and operational efficiency. Visit cpr.ca and see how Canadian Pacific is Driving the Digital Railway.

Editor's Note: Canadian Pacific's Remembrance and Veterans Day ceremony will begin at approximately 10:40 a.m. in front of CP Headquarters, Gulf Canada Square, 401 – 9th Avenue SW."

.
The pictures presented here have been excerpted from an excellent article called
Canadian Pacific Railway and War
prepared by Jonathan B. Hanna, Corporate Historian of the Canadian Pacific Railway. The article may be downloaded from the CP website by
clicking here.
.
Posting by Russ Milland; Pictures from
Canadian Pacific Railwa
y and War
by Jonathan B. Hanna, CPR Corporate Historian
.
.