Historic Note: CLC Whitcomb Delivered to the Toronto Railway Heritage Centre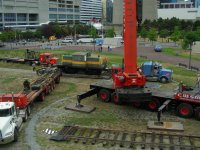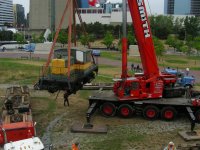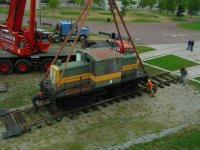 Click on any picture for a closer view!
Derek Boles, TRHA's historian, publishes a daily posting on the
Toronto
Railway Heritage Yahoo Group List
. These postings document major railway oriented events that happened on that day of the year. One of today's items is as follows:
.
"August 20, 2007
The Toronto Railway Heritage Centre receives its first piece of new equipment and the first newly acquired rail artifact to enter what is now Roundhouse Park in almost two decades. The Whitcomb 50 ton diesel-electric industrial switcher was built by the Canadian Locomotive Company in 1950 and used in various aggregate industries northeast of the city. In 1994, it was leased to the York-Durham Heritage Railway for work train service rebuilding the track between Stouffville and Uxbr idge. Later, it was moved to Trenton, Ontario and remained there until it was acquired by the TRHC.
The unit was chosen for acquisition because it was powerful enough to move 6213 and still fit on the turntable with the steam locomotive and its tender. The Whitcomb was delivered by road and unloaded by crane and is one of only three believed to exist in Ontario, the last in original condition and therefore of some historic interest in its own right. The locomotive is double-ended, h as two engines, two traction generators and two traction motors powering the two trucks, all arranged symmetrically about the centre cab. TRHA volunteers then began a program of cosmetic restoration followed by mechanical and electrical systems overhaul. It was decided to repaint the unit in the Toronto, Hamilton & Buffalo Ry. paint scheme to honour this fallen flag, whose engines were frequently serviced at John Street."
If you wish to read the daily postings from Derek and learn from the discussions that result, simply join the Toronto Railway Heritage Yahoo Group List by
clicking here
.
Above, we see our CLC Whitcomb being delivered on that day to Roundhouse Park.
Posting by Russ Milland; Pictures by Michael Guy, TRHA