The Evolution of Roundhouse Park - Part 1 of 7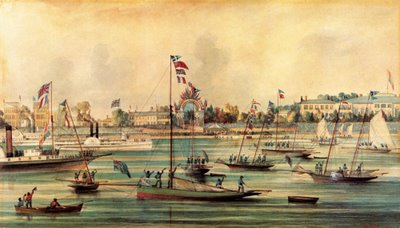 Click on the picture for a closer look!
The Toronto Railway Heritage Centre at Roundhouse Park is scheduled to open later in 2009. The museum is located in the old John Street Roundhouse, built by the Canadian Pacific Railway in 1929 to service the CPR passenger trains using the new Union Station. The CPR abandoned the Roundhouse in 1988 and turned it over to the city of Toronto. For over twenty years, there were various schemes to build a museum but only in the last year or so have these plans come to fruition in time for the 80th anniversary of the Roundhouse.
Probably the most unique feature of the museum is its location on Bremner Boulevard between Simcoe and Rees Streets. Most rail museums in North America were built in isolated locations where land values were relatively inexpensive. There are noticeable exceptions: the California State Railroad Museum in Sacramento and the Baltimore & Ohio Railroad Museum, although the latter is located in a run-down and seedy part of town.
.
However, no rail museum can compare with the prime real estate occupied by Roundhouse Park, located adjacent to four of the most popular venues in Toronto: the Rogers Centre, Metro Convention Centre, CN Tower, and Air Canada Centre. Moreover, the museum is a ten minute walk from Union Station, the busiest transportation hub in Canada. This series of news postings will trace the evolution of the park, from the mid-19th century to 2010.
The image above is of a well-known watercolour by artist William Armstrong depicting the visit of HRH, Edward, Prince of Wales to Toronto on September 7, 1860. The Lake Ontario shoreline was located just south of Front Street and the structures on the right are the Parliament Buildings, which were situated where the CBC Broadcast Centre and Simcoe Place are today. This perspective would have been obtained from a boat, roughly located where the Roundhouse is today. The colourful and elaborate arch welcoming the prince was a typical embellishment of the era and was located at the foot of John Street.
Prince Edward arrived in the city on board the Kingston, the steamship to the left of the arch. The royal visit was the most glittering social event in the quarter century history of Toronto, the first time that a member of the royal family had made an official visit to the city and when the vast majority of Torontonians were still fiercely loyal to the crown. An amphitheatre sitting thousands of people flanked the arch and also functioned as a railway station on the two occasions that HRH boarded a train during his four-day stay in Toronto.
Click here
to read the next in this series of excerpts from Derek's article - The Evolution of Roundhouse Park.
Story by Derek Boles, TRHA Historian; Image Credit: From a watercolour by William Armstrong