The Evolution of Roundhouse Park - Part 3 of 7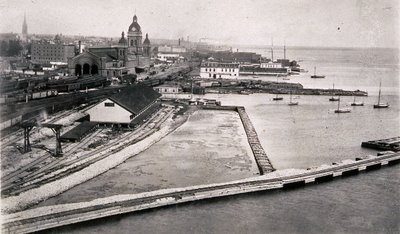 Click on the picture for a closer look!
The above image dates from around 1884 and was taken from the chimney of the water pumping station in the previous image. Roundhouse Park would occupy the centre of this view, with the Gardiner Expressway on the right. Union Station is a lot grimier than in the previous image and St. James Cathedral can be seen to the left of it. The sprawling white structure centre left is a freight shed erected by the Credit Valley Railway, which was taken over by the Canadian Pacific Railway around the time this photograph was taken. Once the CPR obtained a right of way down the Don Valley to the Toronto waterfront, they began filling in the harbour at this location and built the first John Street roundhouse, which opened in 1897.
Another interesting aerial view of the roundhouse site in 1927 can be seen at Ray Kennedy's Old Time Trains website by clicking on
this link
.
In that picture, the John Street bridge crosses the railway tracks in the centre of this photo. This bridge was built in 1896 and dismantled in 1929. To the left of it is the Toronto Water Pumping Station, which was considerably modified over the years and moved in the 1980s to its present location further south in order to make way for Skydome. The Spadina bridge on the left is under construction as is the Canadian National Railways Spadina roundhouse, whose circular form is just starting to take shape halfway between Spadina and John. At the top left of this view can be seen much older facilities, some of which date back to the Ontario, Simcoe & Huron, the first railway to operate in Toronto in 1853. All of these were swept away in the months after this photograph was taken.
Click here
to read the next in this series of excerpts from Derek's article - The Evolution of Roundhouse Park.
Story by Derek Boles, TRHA Historian; Image from the collection of Derek Boles.